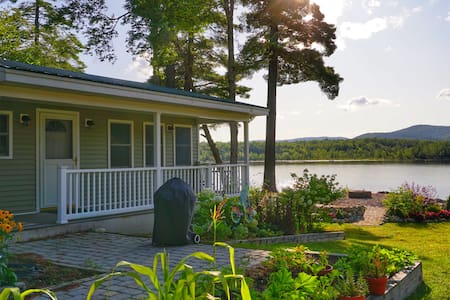 L-appartament kollu · 2 klijenti · Sodda 1 · Kamra tal-banju waħda
North Country Lake House - Loon (no cleaning fee)
Unplug, unwind and escape the stresses of city life in this sunny and romantic, lakefront studio. Located off a private road, you won't be disturbed by through traffic. Whether you want to stay in and relax, enjoy lake sports, or have a restful home base at the end of a long day of hiking, shopping, sightseeing, or winter sports - this is the perfect spot for your vacation.
SUPERHOST
Il-kabina kollha · 11-il klijent · 5 sodod · 3 ikmamar tal-banju
231SIM: INCREDIBLE VIEWS from this log cabin with large deck, huge yard, fire pit, hot tub, minutes from skiing, Santa's Village, and all that Northern New England has to offer! PROFESSIONALLY MANAGED!
###################################################################################### We are open and happy to welcome back our guests to the best managed rentals in the North Country starting June 5th! Per NH order, we can welcome all New England residents (NH-VT-ME-MA-CT-RI), as well as all residents of other States who have been isolating for at least 2 weeks (ie, going into the community only for necessities and when outside of the home maintaining social distancing and wearing face masks when within less than 6 feet of another person). With lots of trails, lakes, ponds, streams to explore, the White Mountains are the perfect spot for a safe respite from the craziness of these past few months. Reconnect with nature, with your family, with yourself! A PROFESSIONALLY MANAGED HOME IS YOUR BEST OPTION! Unlike hotels, all of our homes have individual entrances and no shared spaces, elevators, etc. We are a virtual operation! All of our homes offer keyless entry, so that you don't have to stop by an office or interact with anyone to check-in. While others were laying off staff, we were busy with enhanced training and creating new cleaning procedures that strictly follow CDC guidelines! We've always had the cleanest homes of any rental company. Now, we've had several steps including disinfecting wherever we can. SO MUCH TO DO, EVEN IF YOU WANT TO REMAIN ISOLATED! While NH has now fully reopened, including most major attractions, indoor and outdoor restaurants, etc, we understand that many people would still like to enjoy a vacation while remaining socially distanced. All of our homes enjoy easy access to some of the best outdoor entertainment options! There are literally thousands of hiking trails within a few minutes, plus lake and river beaches, beautiful State Parks, and much more! Come and discover why Bretton Woods Vacations is the #1 provider of vacation rentals in the area! PLEASE NOTE: To protect your health and the safety of our staff, we are unable to provide early check-ins or late check-outs at this time. All non-New England residents will be required to sign that they have been remained isolated at home, going into the community only for necessities and when outside of the home maintaining social distancing and wearing face masks when within less than 6 feet of another person. NH residents are exempt from this requirement if they provide a copy of a valid NH ID prior to arrival. All guests will be expected to answer a series of questions regarding potential exposure to COVID-19. The Bretton Woods Vacations Team ###################################################################################### Nestled on a mountainside overlooking Vermont's Northeast Kingdom, this beautiful log home combines the charm of traditional log houses with modern comforts and amenities, including granite countertops and stainless steel appliance. Large windows allow you to soak in the unparalleled views, and an open concept living area is great for making amazing memories of a your trip. The snowmobiling trail goes right by the house, and a large yard provides entertainment year-round. Soak in the stunning views while sitting in the hot tub, or roast marsh mallows on the fire pit and see if you can spot the occasional moose. Also, a large deck and 3 season porch give you more options to enjoy the views! "Dalton offers breathtaking scenic views, a quaint village with historic church and Town Hall, Forest Lake State Park and old farmhouses surrounded by stonewalls, giving the passerby just a hint of the past." ~ Dalton Historical Society The house has 4 bedrooms with the following configuration: - Master bedroom (in the loft) with King bed and private bathroom - Main level bedroom with queen bed - Two bedrooms downstairs with a full bed and twin over full bunk, respectively And if you need more space, the sofa opens up to a full bed as well! ABOUT THE AREA The house is situated in Dalton, less than 30 minutes from major ski areas (Bretton Woods, Cannon), Santa's Village, and endless options for hiking, fishing, kayaking, sightseeing. The views of the Connecticut river and the Northeast Kingdom mountains are stunning, and the fall foliage will take your breath away. It's the perfect home base to explore the White Mountains and the NEK of Vermont, while enjoying a quiet, private retreat to enjoy some of the best sceneries New England has to offer! PLEASE NOTE: while the driveway is well maintained, some vehicles may not be able to make it up the driveway during the winter. A parking area is available just at the beginning of the driveway for those who are concerned about the ability to get back out; please use your judgement! We recommend 2WD vehicles do not drive all the way to the bottom. ABOUT US: Rent with confidence knowing that this home is managed by Bretton Woods Vacations (formerly Bretton Woods Rentals), the area's premier choice for vacation rentals! We are a local family business with a friendly staff dedicated to ensuring you have the perfect vacation! We moved to the area a few years ago and started Bretton Woods Rentals to share our love of the White Mountains with other guests. Worried about renting online from an someone you don't know? You don't need to worry when renting from us! We manage over 30 rental properties, are fully licensed and in compliance with New Hampshire Real Estate Commission laws, and always available to answer any questions or support you during your stay. Most importantly, we know how important a vacation is to you! We are committed to NEVER cancelling a guest reservation and to ensure that any issue is addressed promptly. From the convenience of keyless entry to our obsession with cleanliness to a constantly growing list of services for our guests, from discounted ski tickets and cog tickets to grocery delivery, we are constantly striving to improve the guest experience and make sure that the next time you think about a visit, you will not think twice about calling us or visiting our website! Check our online listings to see the hundreds of 5-star reviews, and become one of our many loyal guests! *Operated by Bretton Woods Vacations under Meals and Rentals License N. 060929*