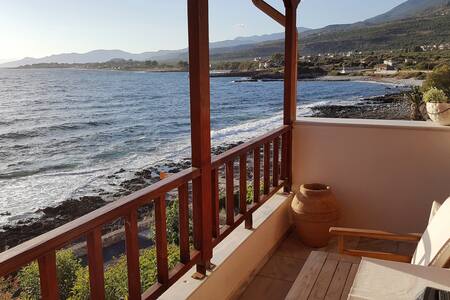 SUPERHOST
Id-dar kollha · 2 klijenti · Sodda 1 · Kamra tal-banju waħda
Beautiful and tranquil house with great sea view
The place The house is really above the sea! In a distance of only 10 meters from the house there is a rocky, beautiful beach where you can go swimming, or else(if you're no fan of rocks) there is another sand - pebble beach about 150m. away. The inside of the house is illuminated, fully equipped for a dreamy stay, perfect for relaxation. The wonderful view from the balcony will make you not want to leave the place.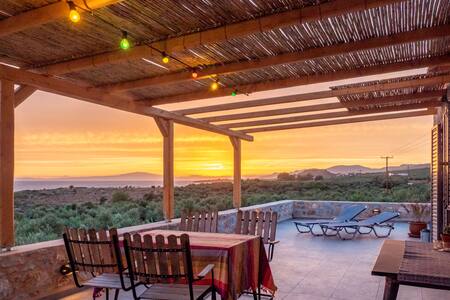 SUPERHOST
L-appartament kollu · 4 klijenti · 4 sodod · Kamra tal-banju waħda
Fryle House apartment with sea view terrace
The apartment is on the upper floor of a brand new, but traditional stone house 100 m from the sea. You have the big upper terrace all to yourself with dining table and sun beds. From here you have a fantastic view over olive groves and the sea. Part of the terrace has a shading roof. The apartment has two rooms. The large one with double bed, table with 4 chairs and a small kitchen. The smaller bedroom has a family bunk bed with comfortable stairs/steps. Lower bed is 120 cm, upper bed 90 cm.
Ένα ήσυχο και άνετο διαμέρισμα χτισμένο από πέτρα το φυσικό υλικό της Μάνης. Βρίσκεται μόλις 100μ. από τον κεντρικό δρόμο της Μάνης, που το μόνο που διαταράσσει την ησυχία του είναι ο ήχος του αέρα και το τραγούδι των τζιτζικιών. Απέχει 200μ. από την παραλία του Πανταζί και μόλις 5 λεπτά με το αυτοκίνητο από το όμορφο ψαροχώρι τον Άγιο Νικόλαο.Ένας χώρος ηρεμίας και ξεκούρασης, αλλά και ορμητήριο για όλες τις εξορμήσεις σας στα αξιοθέατα και τις παραλίες της Ανατολικής και Δυτικής Μάνης.