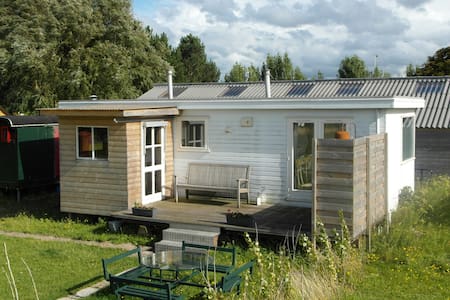 Il-bungalow kollu · 4 klijenti · 3 sodod · Kamra tal-banju waħda
a bungalow on a meadow views of dune and field
The "Graslandbungalow" is situated between seaside-resort Katwijk and the seaside-resort Noordwijk, so it is near to the sea and dunes, in an environment with bicycle-routes and bulb-fields. At 7 minutes walk there is a restaurant Bregje and a regional-museum "Veldzicht". "Space Expo" is also nearby. Restaurants you can find in both the coast-villages, You will enjoy this bungalow cause of the amount of open-air-room, and the free view. It is appropriate for couples and families and a pet.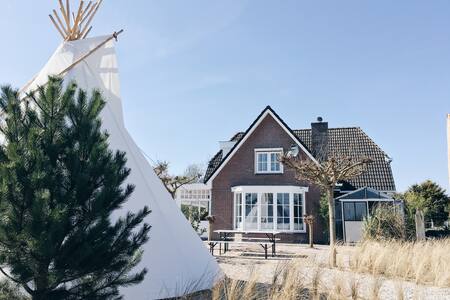 SUPERHOST
Il-villa kollha · 12-il klijent · 6 sodod · 2 ikmamar tal-banju
Cosy 12p Villa close to beach and Amsterdam
A new cosy villa, located next to the dunes and beach. Currently completely renovated in the same style as our other homes. Family, friends, travelers, groups be welcome! 5 bedrooms. 2 bathroom, 2 toilets. Outside greenhouse. In the garden is a big Tipi . Very close to the village. Bedding, towels and espressomachine, all there!
In ons kleine paradijsje hebben wij nu ook een hut in de verhuur. Het is echt back to basic, maar zo romantisch. Even geen WiFi , geen electriciteit. Alleen maar de maan en kaarslicht. Water kan je halen in jet hoofdgebouw waar ook de douche en wc is. Als je de hut huurt heb je een uitzicht op de weilanden en een klein terras. Wij zitten dicht bij de stranden maar ook Leiden en Amsterdam zijn makkelijk te bereiken.