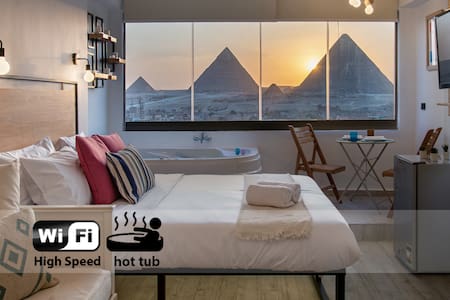 L-appartament kollu · 4 klijenti · 2 sodod · Kamra tal-banju waħda
Jacuzzi By The Historic Giza Pyramids! 5 Min Walk
Welcome to the Pyramids Boutique Apartments The best place to enjoy a great view of the Magical Pyramids Of Giza!! Yes, the view and pictures are 100% real. (Be sure to check out our other listings too) Indulge in a stunning view of all the Giza Pyramids from anywhere within this contemporary oriental studio or while relaxing in the Jacuzzi available. It is also a 5 min walk from the Pyramids entrance gate. To make the most of your trip, make sure to check out our excursions and private tours!
X'qed jgħidu l-klijenti:
"L-appartament jinsab pjuttost tajjeb, inqas minn 10mins jimxu lejn il-platt ta 'Giza u sibt supermarket żgħir ħdejn (bil-magni tal-iskan li dawn ma jitħallsu aktar bħala "prezz barrani"). Int għandek is-sinjur tas-sigurtà 'l isfel ma' tfajla sabiħa ħafna. Il-bini huwa antik iżda ġewwa l-appartament huwa eżatt kif tista 'tara mill-istampa. John huwa pazjent ospitanti ħafna u faċli biex jikkomunika, sibt ħafna mistoqsijiet u kien imħasseb ħafna għall-ewwel vjaġġ tiegħi lejn l-Eġittu, John wieġeb il-mistoqsijiet kollha tiegħi b'paċenzja kbira li wkoll ġiegħlni nħossni ħafna aħjar. Is-sewwieq ta 'Bob mit-tim huwa wkoll sabiħ ħafna, huwa għamel introduzzjoni kompluta lilna matul it-triq kollha mill-ajruport sal-appartament, li tana skript ġenerali dwar il-belt."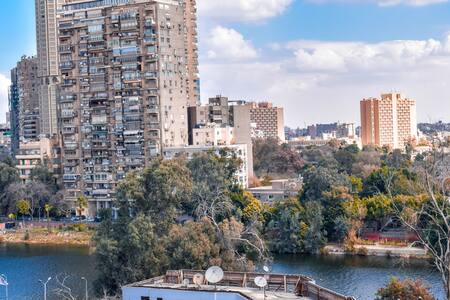 SUPERHOST
L-appartament kollu · 2 klijenti · Sodda 1 · Kamra tal-banju waħda
EZ Residence - Rooftop Apt. overlooking the Nile
City Skyline Views: Charming, Cozy 1 bedroom 1 bathroom apartment in Agouza. Close to Tahrir Square, Egyptian Museum, Zamalek neighborhood and walking distance to British Council. 64m2 Terrace with beautiful view over the Nile and Cairo Tower. It is fully equipped with all you might need, freshly renovated.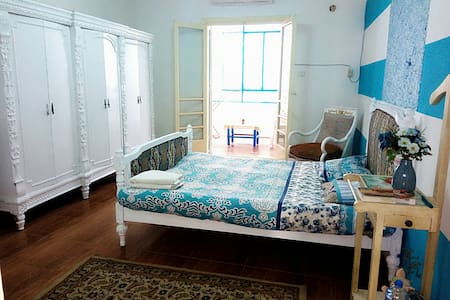 SUPERHOST
Kamra privata · 2 klijenti · Sodda 1 · kamra tal-banju maqsuma ma' oħrajn
Big Room Central Location Dokki ❤Walk to Nile❤️
This room is available in a three bedroom apartment. The room has a balcony and a new air conditioner. The apartment is centrally located near many embassies, and consequently, the surroundings are safe and secured 24 hours a day. The Ministry of Culture, the Sheraton Hotel, and the Nile are also close by. Five minutes of walking will get you to the Dokki Metro Station. Taxis and Uber are also readily available 24/7 and are highly affordable. I am happy to host you!