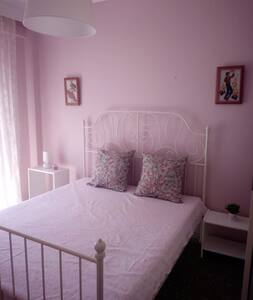 L-appartament kollu · 4 klijenti · 3 sodod · Kamra tal-banju waħda
Διαμερισμα στην Παραλια Διονυσιου Χαλκιδικης
Διαμερισμα που φιλοξενει 4 ατομα, δωματιο με διπλο κρεβατι, δωματιο με 2 μονα κρεβατια, κουζινα πληρως επιπλωμενη, μπανιο, κλιματιστικο, πλυντηριο. Εχει φωτεινα χαρουμενα χρωματα με ομορφη διακοσμηση και παροχες για μια ανετη διαμονη. Αποσταση απο την θαλασσα 100 μετρα με τα ποδια. Ειναι σε ησυχη γειτονια με ιδιωκτιτα διαμερισματα, τοποθεσια ιδανικη για ηρεμες διακοπες με παιδια....και για το παιχνιδι η παραλια και η καθαρη αμμουδια σε συνδιασμο με την γαλαζοπρασσινη θαλασσα.
SUPERHOST
L-appartament kollu · 2 klijenti · Sodda 1 · 1.5 kmamar tal-banju
Feel like your home !!! (Registry No2027)
A studio appartment in Dionisiou Beach in Halkidiki just 50m from the sea and the beach are. The access from and to Thessaloniki airport is 50km. One spacious bedroom (18m2) with a king size bed. Also a fully equipped kitchen (toaster, Nespresso machine, kettle, etc) with a 32'' smart TV (+cable tv) , air condition and one bathroom. On top of that, I am sure you will enjoy sitting at the balcony and have your breakfast or your dinner cooked, surrounded by our lovely colorful roses! Not to forget the "Studio apartment in Halkidiki!!!" is not a plain studio, it is furnished with elegance. The neighborhood has, playground, caffe, restaurants, Taxi post only 60m from home, and coiffure! Also, in only 3 kilometers distance you can find anything else needed in the city of Nea Moudania! Sightseeings and places nearby that you can visit are Petralona cave, ancient Olynthos and Potidea, Athitos, Sani resort. You are welcome! RESTRICTIONS Not allowed pets without asking first the landlord . Not allowed using air condition with opened windows. Not allowed hosting someone without pre agreement with host. The washing machine is only for guests use and not for friends etc. Respect the place like it was yours . NOTIFICATION According to the Greek law every guest who makes the reservation should declare the stats of ID or passport for the taxis services when arrives .